evangelistic resources
Are you wanting to know more about God and how you can have a personal relationship with Him? Check out these resources to find out! We'd love to hear from you!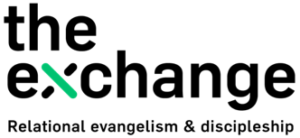 the Exchange
Is there a God? How do I learn about Him? What is He like?
A great way to answer these questions is the Exchange Bible Study by Jeff Musgrave.
Getting to know God isn't as complicated as you might think. In four simple lessons that take you directly to the Bible – God's Word – you will discover in every lesson new truths about God – Who He is, what He did for you, and how you can have a close relationship with Him.
Read

the question and the corresponding Bible verse and allow God to speak to your heart through His Word.

Answer

the question in your own words based on the Bible verse.

Learn

as you study the Bible. You will learn how it applies to you and it will impact your life.

Believe

God's Word and God will bring you into a close, personal relationship with Him.
So, how would you describe your relationship with God?
Consider making The Exchange the beginning of an ongoing adventure with Him.
Contact us and let you know that you are interested in doing The Exchange. We will have a person from Stanley Heights connect with you to arrange getting your free Exchange Bible Study. Do the four lessons with your Bible study partner, and watch what God does in your life!
simple Christianity
This is a study booklet created by Grace Church in Mentor, OH. You can do this on your own or with a friend to study the basics of Biblical Truth. In two words: Simple Christianity.
It is not long, but takes you to the Bible. If you do it with a friend, you can do the booklet in one or two studies. Our Pastor likes this resource because, though it is thoroughly Biblical, it is simple!
Contact us for your free copy of the Simple Christianity Bible study with the form below. When and if you would like a Bible Study Partner to meet with you, let us know and someone from our church will connect with you.